On the surface, mogul Tyler Perry is the epitome of the American Dream. At the beginning of his career, the six-foot six-inch tall man was literally homeless, living out of his car when he wrote morality stage plays starring his alter ego, Madea. Since that humble start, Perry has earned his celebrity with more than 20 films under his belt; an impressive list of acting gigs; several TV shows airing on several networks, and his own studio in Atlanta–the largest of its kind in America. These accolades should be enough to garner the respect and admiration of peers and fans alike, but this is hardly the case for this self-made star.
Reading comments on any of Perry's media coverage or follow any number of hashtags focusing on Perry or his many projects, it become clear why he is one of the most polarizing people in Hollywood. It amounts to essentially two basic camps: On one hand he focuses the majority of his work to telling black stories his fans love; And on the other, his films and television series tend invoke long-standing stereotypes and poor production values that draw the ire of critics and naysayers alike. Perry has been raked just as much as he's been celebrated. And it seems these two camps are getting larger as his media footprint continues to grow.
There's a Lot to Love about Perry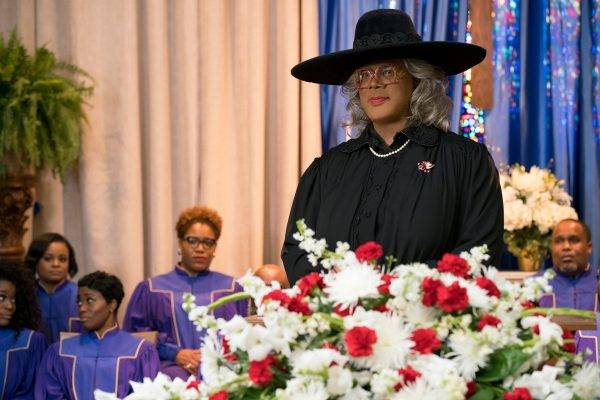 From the beginning with his stage plays Perry tapped into something special for his audience with his wise-cracking Matriarch, Madea. In an essay for the New York Times, he explains how his mother's Friday night card parties in New Orleans became the masterclass for his works.
"This was an apartment full of sharp-witted, drinking, cussing, smoking, strong, irreverent but caring women. I can clearly remember sitting on the concrete floor, choking from the smoke and covering my ears from the loud laughter and blasting blues music," He wrote. "Every now and again I would listen to these women talk about the woes in their lives and relationships, but no sooner had sadness entered the room than one of them would make a joke and the laughter would start all over again.[…] It was in those moments that I learned that laughter can stand arm in arm with agony."
Perry took those lessons in comedy and tragedy to write 23 stage plays that made Madea's "Good Morn'ting" and "Heller" (Hello) a common salutation to this day in the black community;  22 feature films that amassed a whopping $1.2Billion in worldwide box office, and ten television series including deals with TBS, OWN, BET, and now Nickelodeon with the premiere of Young Dylan slated for this spring.
What people love about Perry is his commitment to show people of color in all their facets. He writes stories that break through class and illustrates the common threads people of color share universally. Whether it's an elderly relative or a friend stuck in an abusive relationship, or someone looking for a second chance after prison, Perry hits a chord that resonates to his audience that has become endearing. One theme Perry focuses on is second chances, so its not uncommon in his work to feature people who are incarcerated or recently released at the center of his projects. In his latest film, "Falling from Grace," Perry crafts a melodramatic crime drama surrounding Grace (Crystal Fox) who is accused of murdering her husband. Another example is "Nobody's Fool" a rom-com that centers around Danica (Tika Sumpter) an rising star at a New York ad agency who takes in her sister Tanya (Tiffany Haddish). In the film Haddish and Sumner's love interest are both ex-cons who share wisdoms to help Danica through her valentine arc and ultimately find the love she so desperately wants.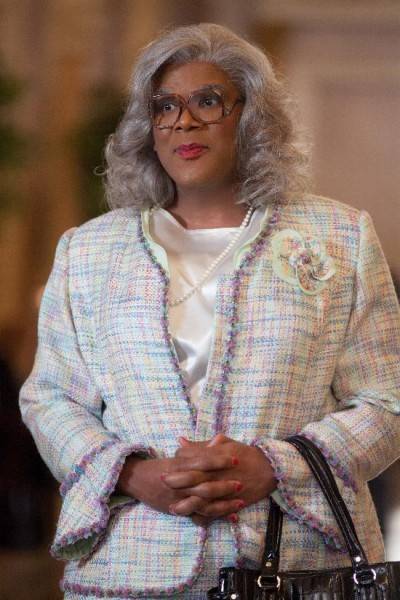 Through his numerous projects, Perry has also launched and supported a ton of black talent. Before Tessa Thompsongained her acclaim in projects like Dear White People, Westworld, and Thor: Ragnarok, she was cast as Purple in For Colored Girls. Idris Elba who had already garnered notoriety from his role on the HBO series, The Wire, got his first leading role in Perry's Daddy's Little Girls. Other stars who worked with Perry include Gabrielle Union, Craig Robinson, Janet Jackson, Taraji P Henson, Whoopie Goldberg, and Angela Bassett.
And then there's Tyler Perry Studios his latest achievement that opened Fall 2019. This sprawling 300-acre facility was formerly Fort McPherson, a defunct army base in Atlanta is now home to 12 soundstages, studio rental offices, celebrity and crew housing, and even a full-size replica of the White House. This was always a vision of Perry's as he felt his work and his presence was not wanted in Hollywood. Perry famously said during an acceptance speech at the BET Awards said while others are trying to get a seat at the table, meaning Hollywood studio executives, he states, "I'll be in Atlanta building my own." In a recent interview on CBS This Morning Perry reinforced this sentiment and his motivation to Gayle King.
"I clearly believe that I'm ignored in Hollywood, for sure. And that's fine. I get it," he said. "My audience and the stories that I tell are African-American stories specific to a certain audience, specific to a certain group of people that I know, that I grew up, and we speak a language. Hollywood doesn't necessarily speak the language."
"I know what I do is important. I know what I do touches millions of people around the world," he told King. "I know what that does for the people where I come from and the people that I'm writing for… You know, if they get it, that's great. If they don't, I really feel it from the bottom of my heart, if they get it, great. If they don't, then that's fine, too."
But There's also a Lot to Dislike about Perry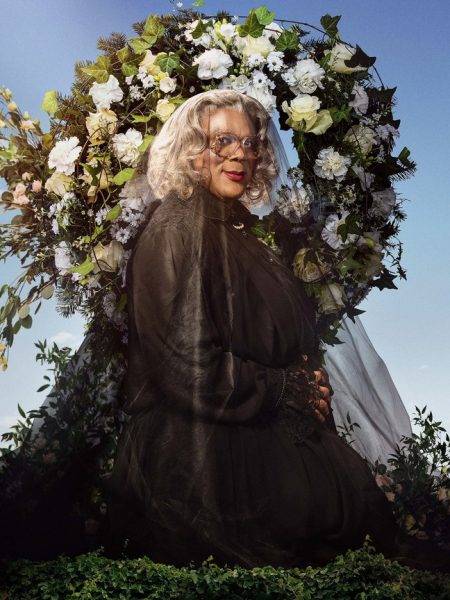 Although Perry has created and wrote his own ticket for success in media, it is not without critical and cultural backlash. Throughout his career people of color have mocked and jeered his craft. From casting of Madea, to the slipshod production practices of his productions. Perry has acquired a plethora of pundits and haters across the spectrum.
Early on in his career, Perry received criticism for his portrayal of black women in his works. In his effort to capture the tenacity and fortitude of black women, Perry constantly crafts stories that center on the pains that yoke women as a moral lesson instead of celebrating the sole thing he ultimately expresses.
In one of his early box office successes, Diary of a Mad Black Woman, based off his successful stage play, Perry introduces the audience to Helen (Kimberly Elise) a homemaker who is desperately trying to hold on her failing marriage with her verbally abusive, cheating husband Charles (Steve Harris) a successful attorney who one day packs all her belongings and puts her out to be with his mistress and their two sons unbeknownst to Helen.  While she struggles to grapple with her situation, she turns to her grandmother Madea to help her get back on her feet. While this is enough to make any ones head spin the criticism Perry receives most is the lack of character and backbone these women he conjures up are clearly lacking. Helen for example goes back to her abusive husband only to realize later the mistake she's made.
In the previously mentioned film Nobody's Fool, Danica breaks off a budding relationship with Frank (Omari Hardwick) an ex-con turned coffee shop owner only to take a chance on Charlie (Mehcad Brooks) her internet soulmate she's never met who fits everything she wants on her list, but soon realizes her flight of fancy comes with a steep price.
This notion of flawed, irrational women, successful abhorrent men, and black male saviors are Perry's wheelhouse and he is constantly taken to task for this one-dimensional way of thinking. In short, he appeals to the lowest common denominator in the trials and tribulations of blacks as a source of understanding and personal growth. But his critics see his methods as demoralizing, uninformed, and pandering. In an interview with Black Enterprises, Spike Lee explained his beef with Perry describing his work as "Coonery Bafoonery," and explains, "we can do better."
"The man has a huge audience, and Tyler's very smart. He started out with these plays, and church buses would pull up, packed," Lee says in the interview. "But at the same time, for me — just, the imagery is troubling."
A big part of this constant myopia his work tends in his universe is his lack of writers. Its just him–a table of one. Perry famously prides himself for writing all of his plays, movies, and television series episodes. In a recent Instagram post, Perry shows a desk full of scripts from his current and upcoming shows tagging the post "WORK ETHIC!! Come on. Let's go get 2020!!!"
This post drew sharp criticism on his failure to hire writers and directors for his projects on social media. Recently Perry received another attack from his audience and critics for not hiring writers on his projects from comedian Lil Rel Howery. On Deadline's New Hollywood Podcast, Howery talks about Perry's lack of diversity and voice in his most recent BET series, "Sistas.
"I love Tyler Perry and I'm proud of him," he said. "But … I told myself I'm a say something because I don't agree with that. I don't understand. You can't write a show called 'Sistas' and you're not a sista. So you don't want no suggestions or nothing?
We gotta do better, man. It's all talk, but if you're really on that, then give people jobs, bro. You can't base nothing on one writers' room, brother. That means you didn't hire good writers. Find more writers! That's just real."
Meanwhile Perry was recently drug over the coals on social media from his latest film A Fall From Grace because of the shoddy production quality and cartoonish characters. People quickly bashed the film for the hideous wigs, continuity inconsistencies like putting on slippers in one scene and like magic they are gone in the next, and just plain production design vacuums like watching extras pantomime eating and drinking nothing in a restaurant. This sloppy, unconcerned approach to his projects has haunted him for decades and will continue to cause more outrage if it continues.
Can't We All Just Get Along?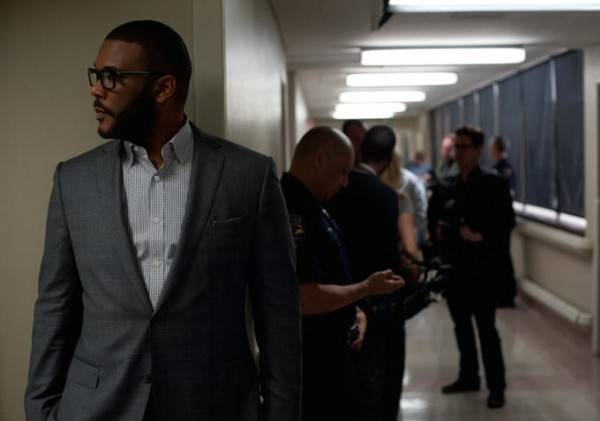 Yes, its time to bring out the Rodney King on this one. Because, let's face it. Tyler is at the top of his own game. So to expect him to change is quite frankly a fool's errand.
For all the examples stated about Perry's brilliance and bad sides, its not without noting a simple truth – he and his projects are of the same coin. We can be too quick to rule out the success of a person from an artistic mishap or misstep. Perry is not alone in these criticisms, we've heard similar rumblings about Wes Anderson's elite playhouse films that can't seem to find a black ally to cast apparently to Judd Apatow's profanity-riddled comedies. Yes, some people love them, but they still draw a ton of criticism for their aesthetic.
But if you wanna try to undertake Tyler Perry, maybe watching the president and his wife have a knockdown drag out fight in the Oval Office as seen in the pilot of his series The Oval is too much, so try watching Daddy's Little Girls instead. If you can't take another abused female professional find herself and love in the arms of a blue-collar worker, watch Perry in his first non-Madea title role, Alex Cross, it will set your angst to right. And if you feel his comedies like House of Payne play into too many stereotypes – you need more black friends.
Like all of us we are the sum of our parts, and just like us Tyler Perry is deliciously flawed and in my opinion a work in progress. His commitment to featuring black characters and black stories no matter the quality isn't all bad. Hollywood will still be a white man's playground while Tyler is just being Tyler. And it is well past time we stop and say that's okay in my book.
Ed Adams is a member of the African American Film Critics Association and the Southeastern Film Critics Association. He resides in Atlanta.
---